Living with winter - interior styling tips and tricks for surviving the wet & cold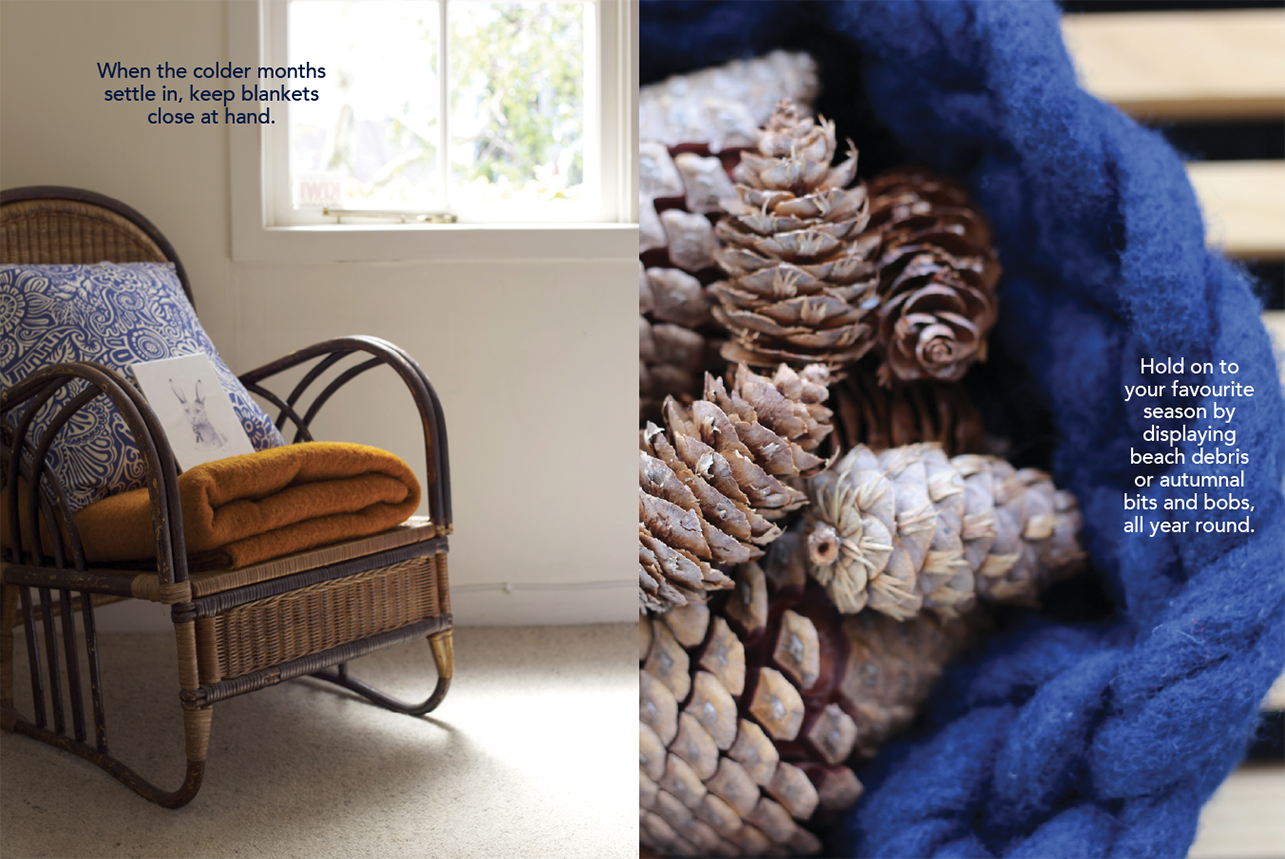 So it's now officially winter. I find it hard to adjust to this season. Crispy sun-filled days are wonderful but when the rain sets in and the greyness engulfs you...it can be a tough few months.
To make the adjustment to winter even harder this year, I spent the last three weeks of New Zealand autumn experiencing an Indian summer, with daily temperatures of 42 degrees plus. I relished the feeling of warmth all the way through my bones. In heat like that you HAVE to move slower which in turn makes for a more relaxing holiday. More on India later though, (yes it was amazing and I can't wait to share what I discovered!...but I must get back to my immediate reality) I want to talk about living with winter, because i'm feeling the cold this year and I don't even live near snow!
---
One of the reasons we live in a house is to take shelter from nature – be it sun, wind, snow or rain. As the seasons change, so does what we need from our home.
Here's my 'go-to list' for ways your home can help you make it through the chilly months.
---

Up the volume on light Increase the wattage on your bulbs and use ones that give a warm rather than cool glow. Make the most of lamps (I turn mine on about 4pm to help with the sun setting so early). Pull back your curtains with ties and take blinds right to their top to bring in as much natural light as possible. Utilise reflection – think about places you can hang a mirror that will reflect daylight from outside. I recently put a glass top on my wooden coffee table which now catches the window light and provides the most beautiful reflections of the garden beyond.
----
Follow the heat  Re-arrange your rooms to make the most of sunshine and heating. We reorientate our lounge in winter to make our fire the focal point and I put my reading chair in a certain spot that is guaranteed to catch the early morning sun (on days there is some!). If you have the space you could consider moving your bedhead away from windows and draughts or re-orientating it so it catches the morning light.
----
Create rituals Winter chores can be a right drag. They have to be done though otherwise you'll find the electric blanket still blearing at 4pm and the heating bill creeping up. In the mornings I utilise my coffee time to wander each room, tie back the curtains, turn the heaters down, crack the windows a little, make the beds, put on a load of washing and light the fire (if i'm going to be at home for the day). At about 4pm I do the reverse with a mug of hot lemon & honey - turn on the lamps, pull the curtains, on go the electric blankets and I light the fire again (because I'm still learning how to keep it running all day).
----
Hide the annoying stuff  I love having an open fire but the loose 'bits and bobs' required to keep it running get me a little cranky, so I gather them into an old fire-engine red tin and create a space beside the fire dedicated to the wood stack. Gumboots and muddy shoes are banned to a wooden box at the back door. Tennis rackets and swim bags in the hall cupboard are replaced by raincoats and umbrellas.
----
Surround yourself with greenery Indoor plants are always a homes best friend. In Winter even more so I believe because we don't get into the garden as much. Be aware that plants need less watering in winter, my plants never suffer from lack of water in winter because instead of tipping my cold hottie bottle water down the drain I tip it into my plants. Keep them away from direct heat and near to natural light.
----
Let your house breath It's smart to keep the heat in during Winter, but, fresh air is also very important. Opening some windows for a while each day helps keep your house healthy. If you run gas heating it is even more important. I crack the windows the rooms that get the most sun. Breathability also comes easier with natural fibres so choose wool over synthetics for blankets and keeping warm.
----
Find excuses to go outside It's a proven fact we feel better when we connect with nature. Winter makes this harder so we have to make extra effort to get out and about. Our house has an outdoor shower that we use year round. It sounds ridiculous but if you have a warm house to return to you're not going to catch a cold. It means we start the day outside, plus we have shorter showers and use less hot water! I also have to leave the house to do the washing as our laundry is in the garage.